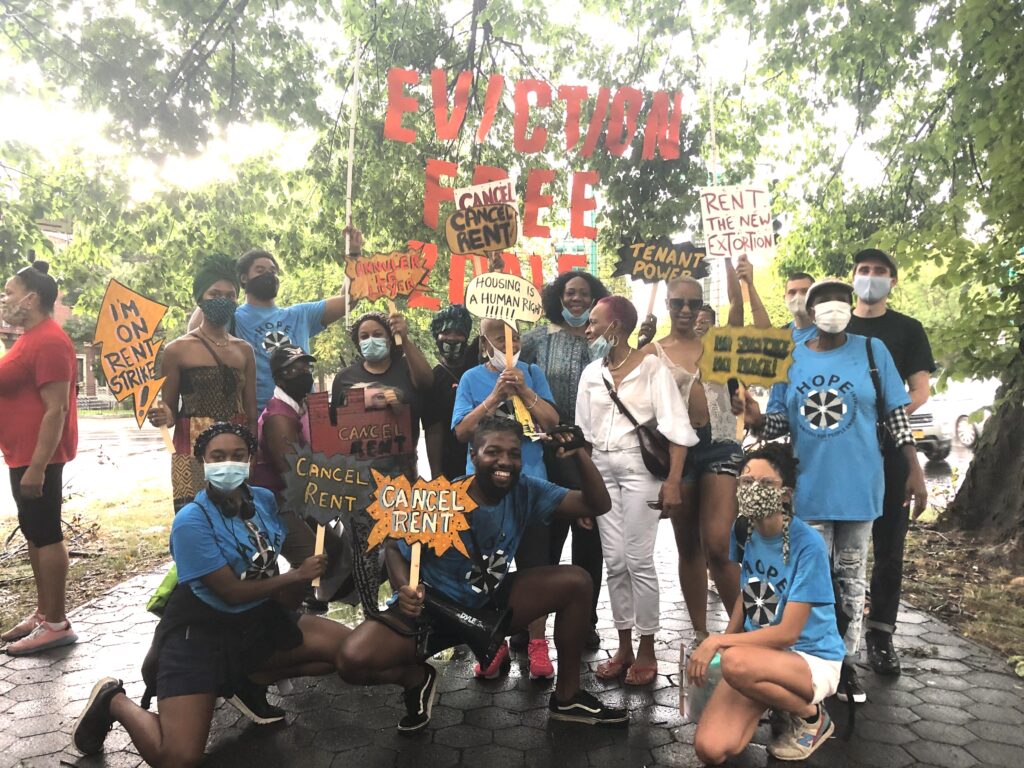 H.O.P.E. stands for Housing Organizers for People Empowerment. We are a diverse community group building tenant power through political education, coalition building, outreach, and fighting for proper legislation. H.O.P.E. believes that safe, healthy, and sustainable housing is a human right for all people.
Since 2018, UHAB has been organizing tenants in Brooklyn's East Flatbush, Brownsville and East New York neighborhoods. We help tenants organize in their buildings to fight for repairs and respect from their landlords. In November 2019, we launched HOPE (Housing Organizers for People Empowerment), a member-led tenant group based in Brownsville.
HOPE fights for better building conditions and stronger tenant protections. We have organized over 20 tenant associations in East Brooklyn and have helped tenants win repairs, refunds from rent overcharges, rent discounts and other accommodations during elevator work, and more. HOPE member leaders facilitate monthly community meetings and set the priorities and direction for the group. HOPE's members are people of color, mostly women, and cross-generational. Their members come from some of the lowest-income neighborhoods in New York City, and their mission is to support one another and build power and dignity amongst us all.
HOPE's campaigns:
Housing Justice for All
HOPE is a member of the statewide Housing Justice for All campaign that brings together tenant and housing groups that are fighting for all New Yorkers to have a safe, stable affordable place to live. Currently, HJ4A is fighting for legislation to protect tenants during and after the Covid-19 crisis, including extending the statewide eviction moratorium and making missed rent payments non-collectable during the state of emergency. Learn more at HousingJusticeForAll.org.
Brownsville Green Justice
HOPE is a member of Brownsville Green Justice, a community collective focused on pushing back against climate & environmental injustice. We are reclaiming our autonomy and community power by: addressing environmental racism through advocating for racial equity, green futures, and green infrastructure in Ocean-Hill/ Brownsville.